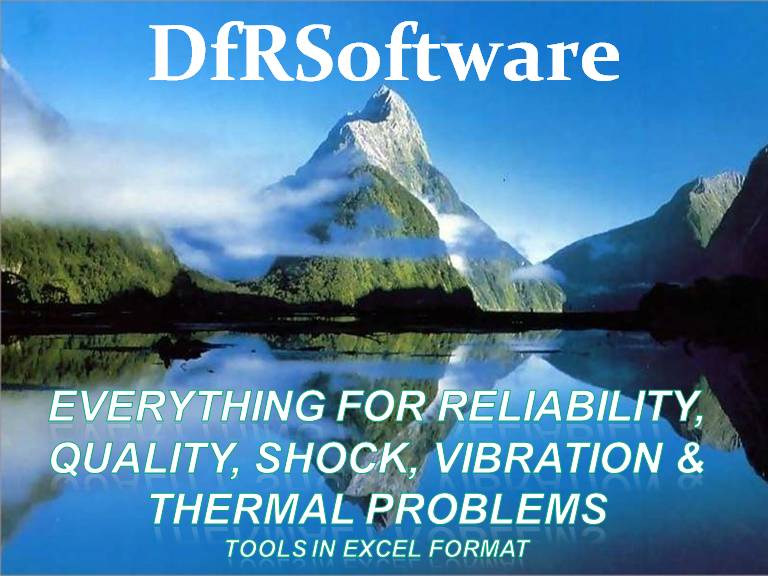 Industry Leader in Training, Low Cost Software Tools, Consulting
Full Reliability Software, Quality, Shock, Vibration, Thermal Analysis
we are unmatched in extensive software tools, training, consulting, and our prices
We also specialize in Shock & Vibration see VibrationShock.Com and Thermal Analysis

.
DfRSoftware ($285- $395)
Use Anytime, Anywhere, No Networking Required
Easy to Use: Videos & Pop-Up Instruction, See Videos Instructions Click Here
Everything for Full Reliability, Quality,
Shock, Vibration and Thermal Analysis in One Tool
Click on Software Topic To See Details
·Full Reliability Plotting (Weibull, MLE etc.) ·Reliability Statistics ·Field Return Analysis
·System Reliability ·Software Reliability (G-O Model etc., New!)
·Acceleration Models ·Automated Qual Plans ·Accelerated Test Plans (Chi-squared & Binomial)
·Design FMEA ·Parametric Reliability Analysis · HALT · Reliability Growth
·Environmental Profiling (CALT like analysis but easier to apply) ·MTBF Predictions
·Derating Guidelines · Engelmaier BGA Fatigue Life Model · HALT MTBF Growth Estimator
·SPC Control Charts ·Normal & Lognormal Probability Plotting ·Lot Sample Plans
·Cpk -Six Sigma Yield Analysis ·Field Return Analysis ·Availability & Sparing
Design of Experiments With Multiple Regression (DOE New!)
PHYSICS OF FAILURE & DfRQ LIBRARY Included
·A Library of Analysis Tools, PoF Knowledge, Design Guidelines, and DfRQ Tests
DfRQ ENGINEERING SOFTWARE Included
· Electrical Analysis· Corrosion Prevention · Misc Tools-DfRQ Cost Analysis
· Engineering Conversions · Skin Depth Engineering
· Electrostatic Discharge Design & Guidelines
· Engelmaier BGA Fatigue Life Model ·Junction Temperature Modeling · RF Power Efficiency
· Built in Thermal Library (CTEs, Resistances) · Fan Cooling Junction Assessment · Transient Thermal Heating
VIBRATION & SHOCK Included (Visit VibrationShock.com)
· Vibration - Shock Analysis & Accelerated Test Plans · Isolator Design · Circuit Board Frequencies
· Steinberg Model · Random PSD, Sine, Sine on Random · Drop Shock & ED Shock · Miner's Cum Damage

(Course Available at Your Company or on-line)
Two Day Courses (Available On Line, In-Person, or Recordings Available)
Design for Reliability & Quality
(HP Shanghai, September 15, 16, 17, 21, 22, 2015)
On-Line (2 Days ) or call for In House Training
Shock & Vibration - Test, Design, & Design Assurance
(2 Days June 23-24, 2016 in Cincinnati, OH)
Understanding Shock & Vibration and its Design for Reliability
(2 Days fall, 2015 in Cincinnati, OH)
DfRSoft Modular Classes (You Select Your Subjects)
Short Courses (Webinar Dates 2015)
Understanding Shock & Vibration, On-Line or Webinar October 21, 2015 (3.5 Hours)
Vital Methods for Reliability and Quality - (3.5 Hours, next class May 13, 2016)
Accelerated Testing, Design & Analysis (4 Hrs. December 8, 2015)
Advanced ESD Practices, Audits, Investigations & Design (3 Hrs., TBA)
Please Benchmark our brochure with any other courses. You will find we are by far Best in Class.
All course include free consulting anytime on course material.

Full Reliability Consulting & Training Services